In epsiode #10 of the Middle Chamber Books podcast, we present a conversation with Native American jazz-fusion musicians Ghosthorse, which has released Ksa (pronounced k'sah), a CD of music combining Lakota cedar flutes with jazz and other world music influences.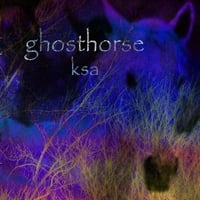 Ghosthorse is composed of

Tiokasin Ghosthorse: flute maker/player, speaker, activist
Charley Buckland: multi-instrumentalist, composer, entity
Dan Grigsby: drummer, engineer, producer, recording magician

Steve and Dan Grigsby both got their earliest radio broadcast experience at WMCX radio at Monmouth College in the 1970s. Steve has gone on to form Professional Podcasts LLC, and Dan has gone on to become a Grammy Award-winning recording engineer and independent music producer.

Download the podcast file here (82.4 mb stereo MP3 file, 01:00:02 length).

Listen to the podcast here:

Ghosthorse members posed after our podcast interview at Dan Grigsby's New York apartment. From left: Tiokasin Ghosthorse, Dan Grigsby, and Charley Buckland.

We produce these podcasts in the studios of Professional Podcasts LLC, Cherry Hill, NJ. Our podsafe theme music for the Middle Chamber Books Podcast is "Cook the Books," from GarageBand.com's Indianapolis Jazz Orchestra.