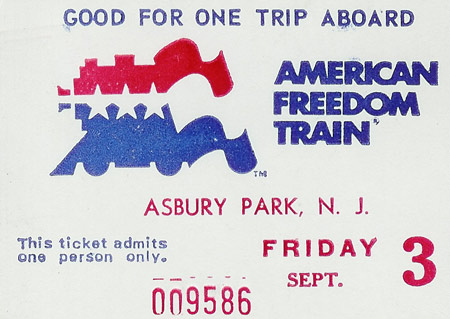 The American Freedom Train toured the country during the Bicentennial celebration in 1976. When it visited Bradley Beach, NJ, we visited the train and interviewed visitors. The exhibits of American history were viewed from a moving walkway in the train that took visitors from the back of the train to the front, but many visitors thought the speed of the walkway was too fast to allow them to enjoy the exhibits. You'll hear a lot of those kinds of comments in this 28 minute recorded program. Anchors were Steve Lubetkin and Lori Zimmerman. This program was broadcast on Monmouth College's WMCX-FM radio station on September 7, 1976.
Download the podcast here. (Stereo MP3 file, 00:28:11 duration, 34.1 mb)
Listen to the podcast here:
Subscribe to the RSS feed for Podcast Steve's Radio Archive podcast series.
Apple iPod owners, subscribe to the Podcast Steve's Radio Archive podcast series in the Apple iTunes Music Store. (Pending.)
These podcasts are available for sponsors. Please let us know if you are interested in sponsoring our programs.
If you listen regularly and find these podcasts valuable, please consider making a secure donation via PayPal by clicking the button below. Thanks for your support.
Keywords: middle chamber, books, amazon, professional podcasts, lubetkin, cherry hill, nj, new jersey, paul kloschinsky, canada, singer, songwriter
---
We produce these podcasts in the studios of Professional Podcasts LLC, Cherry Hill, NJ.  These programs are Copyright ©2010 Lubetkin Communications LLC. All rights reserved. Any cross-posting of these programs to commercial websites is strictly prohibited unless licensed in writing by the copyright owner.
---